PotterCast Interviews Jo Rowling! Click here to Listen!
The Books
Everything...Half-Blood Prince...and the rest of the HP Films
Leaky Apps
Guess That Book
"I expect to see a great deal more effort for this week's essay on the various varieties of venom antidotes, or I shall have to start handing out detentions to those dunces who get D's."[br]He smirked as Malfoy sniggered and said in a carrying whisper, "S
Learn to knit your own 'Weasley Sweater'. Learn to brew your own 'Butterbeer'. Find out how at Leaky Crafts!
Scribbulus Essay Project
Issue 28 - Aug. 2014
Scribbulus is THE place for Leaky Cauldron readers to submit their essays and opinion pieces!
See more over at Scribbulus!
In the News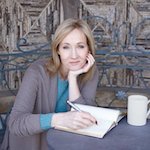 August 01, 2014, 08:42 PM
In order to manage all upcoming and future Harry Potter related projects - such as the theme park expansions and the "Fantastic Beasts" films - J. K. Rowling and Warner Bros. have formed a Harry Potter Global Franchise Development team:

July 31, 2014, 11:13 AM
Today our favorite author, J.K. Rowling, celebrates her 49th birthday! Her literary hero, Harry Potter, also turns 34 today. As these two extraordinary people are the reason the Potter universe, this fansite, and wonderful fan base exist, please join us in wishing Jo and Harry a very happy birthday.
July 30, 2014, 04:29 PM
Please join us in wishing one of the Battle of Hogwarts' most humble heroes, Professor Neville Longbottom, a very happy birthday! Professor Longbottom, the Herbology teacher at Hogwarts School of Witchcraft and Wizardry, has had an exciting summer attending the Quidditch World Cup with all of his old schoolContinued...
More Leaky News
July 28, 2014, 08:43 PM
The final installment of "Goblet of Fire" will be posted on Pottermore on July 31st, in honor of Harry Potter and J. K. Rowling's birthdays. However, for Ravenclaws, who won the latest House Cup, the final installment will be available twenty-four hoursContinued...
July 27, 2014, 10:32 PM
The trailer for Daniel Radcliffe's upcoming film "Horns," is now available to watch. You can see it here or below.
Radcliffe attended Comic-Con to promote "Horns" and while he was there he also walked around the convention dressed up as Spider-Man. You can see that
here
and
here
.
July 23, 2014, 08:37 PM
A very happy birthday to Dan Radcliffe, who turns 25 today. Please join Leaky in wishing him many happy returns!
July 19, 2014, 08:45 PM
At the recent Theakstons Old Peculiar Crime Writing Festival, J. K. Rowling revealed that there will probably be more Cormoran Strike books than there were books in the Harry Potter series:

The author, who recently released her second novel featuring detective Cormoran Strike,Continued...
July 17, 2014, 08:55 PM
A teaser trailer of the upcoming film, "Ghosts of the Pacific," which stars Tom Felton, has been released. You can watch it here or below.



The film does not yet have a release date.
July 14, 2014, 08:42 PM
"Horns," which stars Daniel Radcliffe, has its first teaser poster, which you can see here:

Radcliffe plays Ig Perrish, the never-convicted prime suspect for the violent rape and murder of his girlfriend Merrin (Juno Temple). Hungover from a night of hard drinking, Ig awakens one morning to find horns growing from his headContinued...
July 11, 2014, 08:50 PM
The results of the final match of the Quidditch World Cup are here! Go to the Daily Prophet offices to read through Ginny Potter and Rita Skeeter's comments from throughout the match, and see which team claimed the first place spot.
July 11, 2014, 08:47 PM
Dave Legeno, who played Fenrir Greyback, died while hiking in Death Valley. He was fifty years old. TMZ reports that his body was found in "an area so remote a CHP helicopter had to be called in to remove it."
Our thoughts are with Mr. Legeno's family at this difficult, sad time.
July 10, 2014, 08:45 PM
A reminder to all you Quidditch fans out there - the final of this year's world cup will have live commentary. Reporters Ginny Weasley and Rita Skeeter will be reporting on the match between Bulgaria and Brazil as it happens, and their comments will appear on Pottermore Insider and theContinued...
July 09, 2014, 08:40 PM
The results of the match between the USA and Japan, which decides third place, are in. Go to the Daily Prophet section of Pottermore to see which team won.
The final match, between Bulgaria and Brazil, will be played on July 11th.
July 08, 2014, 10:25 PM
The Diagon Alley expansion at Universal Studios Florida opened to the public today and, as expected, Harry Potter fans flocked to the park to see it:

Parkgoers stood in a snaking queue for at least two hours to get into the new Wizarding World of Harry Potter — Diagon Alley. Many then joinedContinued...
July 08, 2014, 10:18 PM
UN Women has announced that Emma Watson will be appointed as a Goodwill Ambassador to promote gender equality:

"We are thrilled and honoured to work with Emma, whom we believe embodies the values of UN Women," stated Phumzile Mlambo-Ngcuka, Under-Secretary-General and Executive Director, UN Women.Continued...
Displaying articles 1 - 15 of 13872 in total
News sub-categories:
Art
,
Audio
,
Birthdays
,
Books
,
Charity
,
Contests
,
Education
,
Events
,
Exclusives
,
FAQs
,
Fans
,
Featured News
,
Games
,
HP References
,
Holidays
,
Honors/Awards
,
Humor
,
Interviews
,
Celebs on HP
,
J.K. Rowling
,
Legal
,
Media
,
Misc
,
Movies
,
Music
,
Opinion
,
Parody
,
Products
,
Release Parties
,
Religion
,
Review
,
Rumor
,
Sales
,
Tech
, and
Widgets